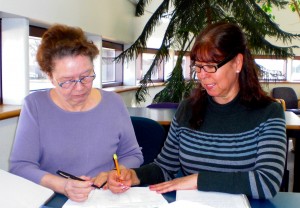 The Council's Executive Director handles testing and placement of new incoming students. The Director works with both students and their tutors to determine the best study materials for each individual and retests all students to assess their progress.
Office Hours
Claremore: Will Rogers Library, 1515 N. Florence Ave. RCLC Office Hours: Tuesdays and Thursdays from 9:30 a.m. until 4:30 p.m. Library Hours: Monday and Tuesday from 9:30 a.m. until 8:00 p.m.; Wednesday and Thursday from 9:30 a.m. until 6:00 p.m.; Friday and Saturday from 9:30 a.m. until 5:00 p.m.
Board of Directors and Meetings
The By-laws and Policies and Procedures (below) are subject to the most current actions of the Board.
February 7, 2017 Agenda
Call meeting to order
Introduce any new guests
Reports:
Secretary:
1. Read minutes for last meeting, discuss/action
2. Read Correspondence, discuss/action
Treasurer:
3. Present account balances
4. Presentation of bills
5. Motion to approve/deny any bills not budgeted. Discussion and action
Executive Director: ED Report
Additional Business:
6. Read Run – review date, any other fundraising items
7. United Way grant and related fundraising, discussion/action
8. Assign board member to review long term and short term planning
New Business:
Consideration and possible action with respect to any other matters not known about or which could not have been reasonably foreseen prior to posting the agenda.
Adjourn
Mission Statement
Rogers County Literacy Council is a private nonprofit organization which provides volunteer tutors to Rogers County Residents, age 16 and older. Tutoring is provided to develop reading, writing, and numeracy skills up to an eighth grade level. English as a Learned Language (ELL) tutoring is provided to improve fluency in both spoken and written English. The personal literacy goal of each student is considered and integrated in tutoring goals.
Open Meeting/Open Records Compliance
In accordance with the Open Meeting Act, the Rogers County Literacy Council meets on the second Tuesday of each month at 6:00 p.m. in the general purpose room of the Will Rogers Library. Meetings for 2017 are scheduled on the following dates:
January 10, 2017
February 7, 2017
March 14, 2017
April 11, 2017
May 9, 2017
June 13, 2017
July 11, 2017
August 9, 2017
September 12, 2017
October 10, 2017
November 14, 2017
December 12, 2017