The Rogers County Literacy Council was formed in 1985 as a result of a series of stories published in the Claremore Daily Progress newspaper about illiteracy. We are a 501(c)(3) organization governed by a community-based Board of Directors. When the new facilities of the Will Rogers Library in Claremore opened in 1994, the City of Claremore dedicated two rooms to the Council's use, one of which is an office for the Executive Director. The Council office houses our library of tutor reference materials, student learning materials, low-level reading-for-pleasure books, computer-based learning software, space for tutoring, and a collection of book/audio tape sets for student use.
The Council is a member of the Oklahoma Literacy Coalition and ProLiteracy America. One of our two trainers is certified by ProLiteracy and has qualified to teach the Oklahoma Open Minds training. We are a Rogers County United Way agency.
What We Do
Our mission is to offer free basic English tutoring to any person in Rogers County who is 16 years or older and reads below eighth grade level, and to offer free English Language Learner (ELL) tutoring to Rogers County non-native speakers who want to improve their English reading and speaking skills.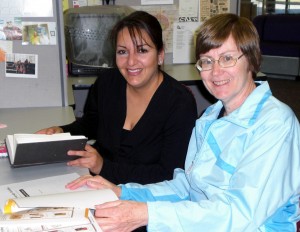 We teach basic English and English as a second language for adult learners who want to:
Learn to improve their reading skills for home or work.
Prepare for GED, or employment, or citizenship.
Improve their life skills through better understanding.
We train volunteer tutors to:
Understand the learning process.
Recognize and overcome some of the common learning stumbling blocks.
Use teaching tools to keep it rewarding for everyone.
Phone: 918-277-4331 Address: 1515 N. Florence Claremore, OK 74017
Email:
reader@rocoread.org